Village of Morley
189 S Cass Street
Morley MI 49336
Phone: 231-856-4582
Fax: 231-856-0288
Email: clerk@villageofmorley.com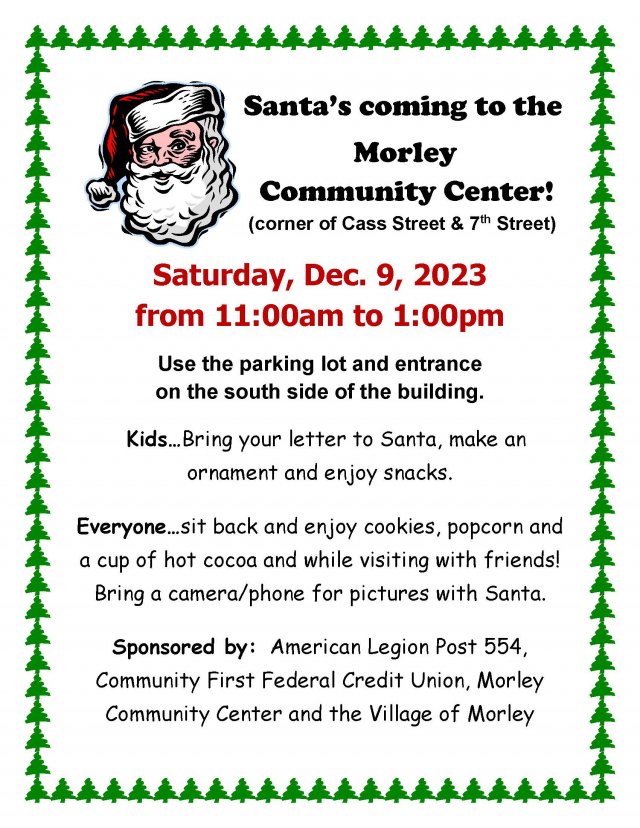 At the September 11 Council meeting the Council amended the 2017 Blight Ordinance and added:
Section 4(G)
Temporary Living Quarters – Recreational vehicles including motor homes, tiny homes, travel trailers, fifth wheels, and popup campers may not be used as permanent living quarters within the Village of Morley. Temporary use of the aforementioned vehicles of thirty (30) days or less per resident in one calendar year is permitted. Any temporary use of the aforementioned vehicles will need proper hookups to water and sewer or be self-contained. The exception to this restriction is Mecosta Pines Campground and any other campground the Village of Morley Council deems authorized.
We have contracted our lawn mowing and snow plowing to Heckman & Son. Please be patient with them as they learn our streets, parking lots and methods.
PLEASE NOTE: There is no parking on Village of Morley streets from November 1 through April 1 from 2:00-6:00 AM. This ordinance is to accomodate snow plowing. Our Code Enforcement Officer will be writing tickets and/or have your cars towed. Prior notice may not be given.
We contract with Republic Services for residential trash service so we can provide our residents with service at a better value. If you wish to receive trash service, you must contract with them. They have a very reasonable bag service also. Please mention that you're under the Village of Morley contract. They can be contacted at 877-698-7274.
Each year, municipalities who receive road monies are required to provide the State with a report. This report is open to the public. Click HERE to obtain the report.
For Michigan Public Service Commission Video/Cable Consumer Information - click HERE.